My name is Danielle French and I founded South Pond Farms in 2008. It started as a small food delivery business where I made fresh prepared meals from ingredients in my garden. Together with my family and my partner Shawn, we restored the barn, the iconic heritage silo and the land.
Today, the farm is a destination for authentic culinary experiences, weddings, celebrations, workshops and homemade food products. I love to create unique settings and menus for everything we do at the farm. 
My hope is that through my stories and events, I share my vision of a traditional life and way of cooking and to feel the sense of history on this beautiful land.
A family owned 60 acre farm since 2006, South Pond is on the Oak Ridges Moraine in the traditional territory of the Anishinaabe Mississauga. The house and barn were built in 1865. We began restoration of the barn and buildings in 2009. Since then, the land has been regenerated and turned into gardens for vegetables, flowers. Each year we add more native species to the land. South Pond is a special event venue and is a favourite for hosting authentic barn weddings, private events and group experiences. Inspired from the farm, Danielle creates a line of culinary products and gifts. 
The farm is a destination for culinary events and connection to food and nature. Our guest cottage is available for overnight accommodations. Additionally, we are lucky to be an access point for the adjoining Ballyduff Trails on the McKim-Garsonnin property that wind through 260 acres protected by the Kawartha Land Trust.
We are proud to be partnering with BE catering to provide the food services for all our events. We share a similar philosophy focusing on simple, quality ingredients from our farm and the abundance of great farmers and artisans in our region. Our hope is that our guests leave enriched by the simplicity of good food and connection to each other and relax amongst naturally beautiful surroundings.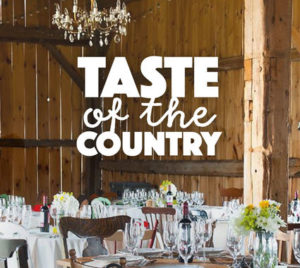 Danielle was also the host of a television series called Taste of the Country, formerly on Netflix in eleven countries and the Makeful Channel in Canada. On that show, she shares tips and secrets, trials and tribulations of family life and work on the farm. You can find clips of the show on our Youtube Channel. 
Our Mission is to provide authentic experiences that connect people to the land by offering the environment to enjoy simple and delicious food from ingredients that are grown here and in our region. Through focus on the details, quality of service and natural beauty of the farm, we strive to create a place for celebration, community and learning. 
We believe it is our responsibility to be custodians of the land and educate our customers on the importance of informed food sourcing, environmental protection and community contribution. We commit to working with the members of our community to create business and elevate the region as a whole. We operate on our farm on the Oak Ridges Moraine with respect for the land and a goal to improve the soil quality and ecosystems that exist on it. 
Many special people have made South Pond South Pond Farms the magical place it is today. My vision could never have been realized without their dedication. It began with my daughters and my friends' children. Some of those "children" have stayed on for years, in particular my own daughter, Carlyle. She has been involved in every part of the business. I cannot express how grateful I am for everyone, past and present, who has played a part in our success. 
I am thrilled to partner with a local business woman, Bonnie from BE Catering. She and her culinary team and business have joined us at the farm and moved into the kitchen. Bonnie is an experienced chef and has been engaged in our local community for many years. Moving forward, South Pond will continue to develop partnerships and the future will be one of collaboration. As always, I will continue to curate experiences here at the farm and her team will provide the food services. 
> Read Danielle's stories and recipes